Issue #50 / Jan 2005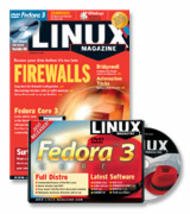 DVD: Fedora Core 3
Working with Software Suspend
Nearly all motherboards have a power management feature designed to power down the computer and put it into suspend mode. In real life, this feature does not always work. Linux has a software-based workaround for the dysfunctional suspend.
The Sysadmin's Daily Grind: Surveillance with Motion
Commercial surveillance systems are expensive and typically involve maintenance agreements. I thought there must be a low-budget alternative.
More professional layout with Scribus
In part two of this three-part series[1],Jason Walsh gets to some details on laying out a newspaper in Scribus.You'll also learn about managing those tricky CMYK graphics files.
Using PHP in administration scripts
Most admins tend to use the shell, Perl,or Python if they need a system administration script. But there is no need for web programmers to learn another language just to script a routine task. PHP gives admins the power to program command-line tools and even complete web interfaces.
Insider Tips: Locks
A genuine multitasking system like Linux runs many processes concurrently. Programs must compete for data access. Assigning locks to files ensures exclusive access and prevents the possibility of data.
Web applications with Ruby and Rails
Most web libraries make 90 percent of the job simple and the rest impossible. Rails,an open source framework programmed in Ruby,is flexible enough to succeed with that remaining 10 percent.
Remote control with a Jabber Bot
To get past a firewall and into a LAN,you need either a secret backdoor or a cooperative agent on the inside. A Jabber client on the LAN contacts a public Jabber server and wait for instructions trickling in as instant messages from its Internet buddies.
Mouse gestures and keyboard shortcuts with KHotKeys
Mouse gestures and keyboard shortcuts
add speed and simplicity to PC
operations. Mouse gestures used to
be the domain of Opera and Mozilla
users,but KHotKeys now brings them
to Konqueror for users of KDE 3.2 or
newer.You can even launch non-KDE
programs with KHotKeys.
Setting up SuxPanel
Even the smallest desktop has room
for a panel. If your choice of a window
manager does not support a suitable
panel alternative,you can always add
a panel like SuxPanel. Suxpanel provides
many useful features for the
desktop,and it even it even supports
plug-ins.
Configuring KDM and GDM
Both KDE and GNOME have display
managers.We'll look at the features
offered by KDM and GDM,and we'll
examine how to configure a display
manager for your Linux system.
Visit Our Shop
Direct Download
Tag Cloud