Issue #54 / May 2005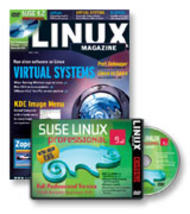 DVD: Suse Linux 9.2 Professional
Developing Web Applications with Zope X3
Zope, a web application server written in Python, is an extremely popular open source content management system platform. The newly developed version X3.0 was released just recently. We'll show you what's new in Zope X3.0.
Apt on Suse Linux
Debian's Advanced Packaging Tool, Apt, is often regarded as the ultimate choice for convenient package management in Linux. But what if you don't use Debian? This article describes how you can use the powerful Apt package management tool with RPM-based Linux distributions.
Putting Linux on a Sun SPARC machine
We all know Linux works smoothly on PCs, but the PC's x86 archictecture is just one of a range of platforms Linux supports. This article gives you a head start with setting up Linux on a Sun SPARC machine.
Anonymous Remail with Mixmaster
Anonymous remail protects the sender's identity against potential eavesdroppers. The Mixmaster protocol gives users a mature technology for anonymous remail, and the text-based Mixmaster client is an example of a free remailer application.
The Sysadmin's Daily Grind: Smokeping
If you do not receive a response to a ping, or if the response is seriously delayed, you might like to take this as a warning. But who wants to ping all day? You need a ping-based monitoring utility like Smokeping.
Insider Tips: Backups
Data always seems to get lost at exactly the wrong moment, but the right backup strategy can help you restore those missing files.
High Availabilty for VPNs
IPSec prevents many of the clever tricks high-availability products employ. We'll show you a solution that provides transparent backup for IPSec connections.
Working with the Perl debugger
Some developers condemn the use of debuggers, but in many cases, a debugger is a programmer's last hope. In this Month's Perl Snapshot, we'll look at Perl's integrated debugger.
Storing, sorting, and filing with KDE's Basket
If you tend to collect information and then forget where you put it, a
KDE tool called Basket may be just what you need. Basket is a
handy container for documents, notes, images, sounds, graphs,
spreadsheets, and other files you may want to find later.
WMI and the reincarnation of the keyboard
WMI is a lean and fast window manager with good
support for keyboard control.
Visit Our Shop
Direct Download
Tag Cloud