Issue #54 / May 2005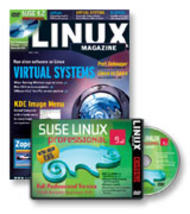 DVD: Suse Linux 9.2 Professional
Working with KoolDock and KXDocker
If the KDE Kicker is not graphical, or spectacular enough for your taste,
you can dress up KDE with KoolDock or KXDocker.
Converting images with Kim
With a Konqueror-integrated service menu called Kim, you can modify and manipulate image files through a handy context menu.
Command-line browsers Lynx, Links, and w3m
If you're working at the command line and you need to reach the
Internet, or if you just want to convert an HTML file into neatly formatted
ASCII text, try a text-based web browser.
Memories of LinuxWorld Boston, 2005
Booths, tools, toys, conference sessions, and birds of a feather – this year's LinuxWorld provided few surprises. But a look beyond the routine revealed some emerging new perspectives on the state of Linux.
FOSDEM 2005 in Brussels, Belgium
The annual winter meeting of Europe's open source developers took place February 25-27 in Brussels, Belgium. Again the event was a mustn't miss for thousands of contributors to free projects and a welcome opportunity for developers to exchange ideas outside the borders of their own communities.
Free Software and its Makers
The well-known Suse configuration program Yast 2 will be helping Debian users in future. And if you are looking for a way to relax after finishing your system administration chores, check out "Battle for Wesnoth."
The Monthly GNU Column
This column investigates projects and current affairs in the world of free software from the perspective of the GNU Project and the Free Software Foundation. In this issue, I'll focus on Mbox-Cleaner and report on the World Social Forum in Porto Alegre.
Visit Our Shop
Direct Download
Tag Cloud