Issue #56 / Jul 2005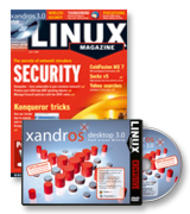 DVD: Xandros Desktop 3.0
Secure email with Thunderbird and Enigmail
Thunderbird offers several options for secure email, and the GnuPG-based Enigmail encryption add-on provides an additional layer of protection.
Music on the LAN with SlimServer
If you have a LAN in your home or office, why not use it for something really important – listening to music?
The Sysadmin's Daily Grind: Mtop
It would be great if every MySQL database enjoyed perfect health 24 by 7, but unfortunately, trouble sometimes strikes. A logfile isn't much help if you are investigating why a database is flooded with requests. Mtop to the rescue.
Examining the generic Socks version 5 proxy protocol
Socks is a universal proxy protocol for TCP and UDP that allows internal hosts to securely pass the firewall and authenticates users. This article describes the latest version of the Socks proxy protocol and shows how to implement it.
Managing Linux User Accounts
The steps for setting up new accounts in Linux are automated and often use GUI-based tools. Under the hood, a number of mechanisms give the new user an environment to match his or her needs. In this month's Admin Workshop we discuss techniques for setting up accounts.
Using the Yahoo Search API with Perl
Following in the footsteps of Google, Amazon, and eBay, Yahoo recently introduced a web service API to its search engine. In this month's column, we look at three Perl scripts that can help you correct typos, view other people's vacation pictures, and track those long lost pals from school.
Working with Konqueror 3.4
Following in the tracks of previous invaders such as Navigator and the Internet Explorer, Konqueror is on a mission conquer the Internet. The KDE 3.4 version of Konqueror is a truly versatile tool that feels at home on the web.
Making waves with xdesktopwaves
If even the most imaginative desktop background is starting to bore you, it's time for a change. xdesktop waves allows you to change your desktop into a water scape. You can add rain and storms or just drag your mouse to liven things up.
Vector graphics with Inkscape
When it comes to drawing with the computer, professionals often opt for vector graphics. Inkscape brings the power of vector graphics to Linux users. Our workshop demonstrates how to use the program.
Music tools for the command line
You don't always need a GUI-based tool to play MP3 and Ogg Vorbis tracks. In this month's column, we look at tools for rocking from the shell.
Visit Our Shop
Direct Download
Tag Cloud