Issue #57 / Jul 2005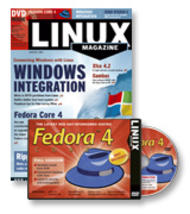 DVD: Fedora Core 4
Dear Linux Magazine Reader, A press release crossed my desk recently that caught my eye. That message was from Red H......
NEW DUTCH FOUNDATION FOR OPEN STANDARDSMay, CUBA LIBRE ORANGE, THE OPEN MOVIE GNOME IN SPANISH SWAHILI SPOKEN...
MOZILLA GZIP GEDIT...
Tools and techniques for Windows integration
Dualbooting Linux with Windows is the easiest thing in the world, you think, so you install your favorite Linux dis......
Putting Linux and Windows on a single hard disk
When two systems share a single computer, a boot manager handles the prompts that determine which system to boot. We'll show you several multiple boot scenarios and describe how to set up your system for dual booting Linux with Windows.
Accessing partitions on dual-boot systems
Why reboot every time you need to access data on the other side of your dual boot system? We'll introduce you to Captive NTFS – a free tool for reaching Windows NTFS partitions from Linux. We'll also show you some handy tools for reading Linux partitions from Windows.
COVER STORY: Wine
Running Windows Programs with the Wine API
The Wine compatibility layer lets Linux users run Windows programs. Unfortunately, configuring Wine is anything but trivial, and it helps if you enjoy experimenting.
Postfix Apache Security...
Exploring the Zend Studio 4 developer environment
PHP experts consider Zend Studio the most mature and feature-rich IDE for PHP. The latest version offers enhanced database manipulation and other improvements. We'll put the Zend Studio IDE through its paces and show you how you can use it to speed up PHP development.
Installing and exploring Xfce 4.2
If you're ready for life without KDE or Gnome, maybe it is time to try Xfce, a lean, fast, and eye-catching desktop with a large collections of tools.
Visit Our Shop
Direct Download
Tag Cloud