Issue #57 / Jul 2005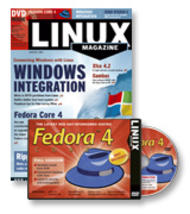 DVD: Fedora Core 4
Recording Internet audio streams
FM no longer has the biggest selection of radio stations. Instead, you need an Internet connection. But how can you save a copy of your favorite web broadcast?
Tellico Desktop Database
Linux has a fantastic collection of database servers, but many users just want a simple desktop database. Tellico fills the niche.
The Sysadmin's Daily Grind: HTPDate
Despite the cyclical disruptions so typical of LUG meetings, our intrepid columnist, Charly, reveals how he set the system time in spite of a blocked NTP port.
Better backups with the daemon-based Bacula backup system
When backup jobs become too challenging for a script, the daemon-based free backup tool Bacula may be the answer.
Insider Tips: Documentation in Unix and Linux
System admins routinely refer to documentation for help with obscure command line options. In this month's Admin Workshop, we examine the programs and formats behind the command line documentation you read everyday.
Tips and tricks for easy Perl programming in Vim
The Vim editor has any number of tricks for helping you avoid unnecessary typing. In this month's article, we look at some effort-saving Vim techniques for Perl hackers.
An alternative pager for the kicker
If you want a better view of your virtual desktops, try Kpager2, an alternative pager for KDE.
JWM Window Manager
JWM is a window manager for Linux users who demand an efficient GUI and are not afraid to fire up an editor to get it. If this sounds like the kind of tool you are looking for, read on to discover more about JWM.
Photomosaics with Metapixel
If you're looking for more than a convention tile design, try Metapixel, a free tool that creates attractive photomosaics from a collection of digital images.
Command line user management
Linux is a multiuser system: many users can work at the same machine at the same time on separate accounts. In this month's column, we take a close look at how to create and manage Linux user accounts from the command line.
Visit Our Shop
Direct Download
Tag Cloud