Issue #58 / Sep 2005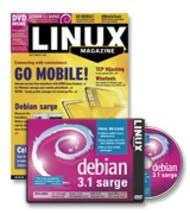 DVD: Debian GNU/Linux 3.1 r0a 'sarge'
Touring the galaxy with Celestia
Space, the final frontier, is a bit too expensive for a short vacation. If a trip to the moon is beyond your budget, why not try Celestia, a free program that brings the galaxy to the comfort of your home.
Calendar in the command line
The legacy cal and date tools help users keep track of the time and date. You can even change the system time with a single shell command.
Europe's biggest Linux event
More keynotes on technological and politics, and more room for free projects: this was Linuxtag in its eleventh year. But attendance was down because Europe's biggest Free Software event charged an admission fee for the first time.
An up-to-date look at free software and its makers
Debian GNU/ Linux [1] users have waited over two years for a new release of their distribution. But Debian has finally made it, and version 3.1, alias Sarge, has now replaced its predecessor Woody after almost three years.
The Monthly GNU Column
This column looks into projects and current affairs in the world of free software from the perspective of the GNU Project and the FSF. In this issue, we focus on mind maps and the demand for free software at the European Commission's 6th Framework Program.
Visit Our Shop
Direct Download
Tag Cloud