Issue #59 / Oct 2005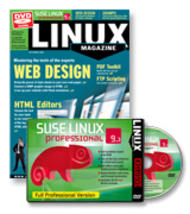 DVD: Suse Linux 9.3 Professional
The stream editor sed
Working with a text editor can be difficult if you need to handle frequently recurring tasks or multiple files. sed can save a lot of typing.
Debian developers gather in Finland
Debian developers from around the world gathered in Finland to exchange ideas and have a good time at this year's Debian Developer's Conference.
Walking the Hall at LinuxWorld San Francisco
Linux enthusiasts gathered in San Francisco to learn about new tools, new initiatives, and even a new license.
An up-to-date look at free software and its makers
Free software covers such a diverse range of utilities, applications, and other assorted projects that it can be hard to find the perfect tool. We pick the best of the bunch. This month, we discuss Ubuntu, Debfoster, and Deborphan.
Visit Our Shop
Direct Download
Tag Cloud