Issue #62 / Jan 2006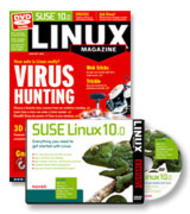 DVD: Suse Linux 10.0
Open Source 3D animation
You need good software and plenty of CPU power to create virtual worlds. Luckily for today's animators, powerful PCs are inexpensive, and some excellent animation tools are absolutely free.
Learning music with GNU Solfege 3.0.0
Solfege helps you advance your musical knowledge and lets you practice identifying intervals, scales, and chords.
The Plan 9 network operating system
In the eery, distant days before the birth of Linux, a strange alien system set out to fulfill the promise of Unix. Descendents of that system are still living. We caught one and dissected it.
The Sysadmin's Daily Grind: Mod_evasive
The Apache web server can fight back against DoS attacks. You just need a little help from Mod_evasive.
Insider Tips: Logrotate
Every multi-purpose Linux system produces an enormous amount of log data. To prevent your hard disk from overflowing, a rotating helper application archives logs and gets rid of obsolete data.
Understanding Nmap analysis techniques
How does the popular Nmap scanner identify holes in network security? In this article, we examine some Nmap analysis techniques.
Accelerating downloads with Trickle
Is your Internet connection groaning under the load of too many simultaneous downloads? If so, try Trickle, a simple application that gives you more granular control over network traffic.
More dynamic websites thanks to AJAX
AJAX technology adds dynamic elements to enhance sluggish websites. All it takes is a server-side Perl program and some client-side JavaScript code.
Desktop Searches with Kat
The Kat desktop search tool turns up more than text strings.
Organizing windows with Whaw
If you're weary of sorting through overlapping windows, Whaw will help you get organized.
Visit Our Shop
Direct Download
Tag Cloud