Issue #63 / Feb 2006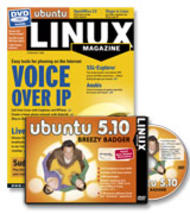 DVD: Ubuntu 5.10 'Breezy Badger'
Are Gnome and KDE equal? Gnome and KDE are always presented as equal alternatives. Are they really equal, or are th......
Test: An easy VPN with SSL-Explorer
SSL-Explorer provides an easy, web-based interface for configuring a virtual private network.
Creating a multimedia center with Mpeg Menu System V2
You'll forget you're even working with a computer when you browse for your favorite videos, pictures, and audio files with Mpeg Menu System.
Converting PS and PDF files with pstoedit
pstoedit lets you convert Postscript and PDF files to vector-based image formats.
The Sysadmin's Daily Grind: HTTPing
HTTPing may be the perfect tool to check on the health of your web server.
Centralized email encryption with Anubis
The Anubis mail manipulation daemon lets you centralize encryption for outgoing mail.
Detecting system changes with Dnotify
We'll show you how you can avoid the tragedy of lost files with a transparent, Perl-based version control system.
Cutting power costs with KPowersave
KPowersave gives KDE users a single easy interface for configuring power management settings.
Rescuing your vacation snapshots with Gimp
Gimp will help you dial up the quality on your less-than-perfect digital
images.
Fortune cookies for Linux
Fortune brings you a saying or a joke when you launch a terminal
session. Or you can attach a fortune to your email signature to
brighten up your messges.
Visit Our Shop
Direct Download
Tag Cloud