Issue #63 / Feb 2006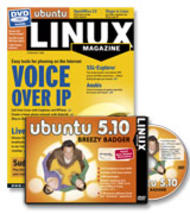 DVD: Ubuntu 5.10 'Breezy Badger'
Sudoku puzzles on Linux
Some regard Sudoku as the 21st
century Rubik's Cube. We'll
show you how to get started
with Sudoku in Linux.
The Ispell and Aspell command line spellcheckers
Nobody is safe from typos and jumbled up words. Spellcheckers like Ispell and Aspell keep the letters in the right places.
Linux New Media Awards 2005
Linux New Media put together an international jury to recognize outstanding contributions to Open Source. We'll tell you who brought home the prizes when the 2005 Linux New Media awards were presented at Linux World Frankfurt.
Community Notes
November proved to be an interesting month in the Linux and Free Software communities. Things started out pretty no......
An up-to-date look at free software and its makers
Create virtual 3D worlds with Worldforge, and launch Windows programs with the Wine-derived ReactOS.
Visit Our Shop
Direct Download
Tag Cloud