Issue #64 / Mar 2006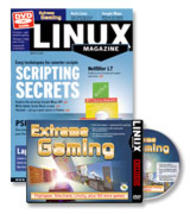 DVD: Extreme Gaming
No DVD Boot I have an "old" 1 GHz PC with a DVD reader and CD writer, 512MB Ram, and 2 * 80MB HD. Unfortunately, ap......
Building a simple database with Mudbag
If you are looking for a quick and simple database system you can access with a browser, try Mudbag.
Safely deleting data
Backups are a common topic, but you'll hardly hear anyone mention safe data deletion.
The Sysadmin's Daily Grind: Webalizer Xtended
Webalizer is a tool for analyzing web server logfiles. A new patch lets admins see what isn't there.
Blocking protocols at Layer 7 with the L7 patch
If you need a tool for filtering protocols that doesn't depend on the port, try L7, an IPTables patch that operates through regular expressions.
Exploring the Perl DateTime module
Because calendar rules are influenced by historical and political decisions, date manipulations are riddled with pitfalls. Perl's DateTime module knows all the tricks.
Software distribution with Klik
Klik brings convenient two-click installation to the KDE desktop.
LINUXUSER: Irssi
Text-based chat with Irssi
The Irssi console chat utility is powerful yet frugal with resources. And Irssi's scripting features make it a giant among chat tools.
A look at the Wmii Window Manager
If you'd rather rule the desktop from your keyboard, try the powerful Wmii window manager.
Showing Movies on a Playstation Portable
You can use Linux to load movies on your a Playstation Portable (PSP) gaming console.
Visit Our Shop
Direct Download
Tag Cloud