Issue #64 / Mar 2006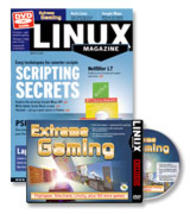 DVD: Extreme Gaming
Viewing files with cat, more, less, head, and tail
Practical tools such as cat, less, and head are convenient for viewing text.
Community Notes
Linux and Free Software enjoyed continuing success throughout 2005. We saw a growing number of government initiativ......
An up-to-date look at free software and its makers
This month, we examine two Gnome programs: Tomboy gives users Wiki-style notepad management, and Searchparty helps Google users find people with similar interests. We'll also report on WW2D and the Debian-Private mailing list.
Visit Our Shop
Direct Download
Tag Cloud