Issue #65 / Apr 2006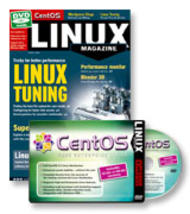 DVD: CentOS 4.2 (32-bit and 64-bit)
Blogging with Wordpress
Wordpress is an easy, frugal, and feature-rich tool for creating a personal weblog. If you always wanted your own blog, but you don't have time for the technical details, Wordpress lets you get started in style.
KNOW-HOW: Amsn
MSN Messenger in Linux with webcam support
Many Webcam owners use MSN Messenger by Microsoft for video messaging. Linux users can run Amsn to connect eye to eye.
The Sysadmin's Daily Grind: Ethtool
A touchy LAN that plays like a movie diva can spoil any admin's day. Ethtool to the rescue!
SYSADMIN: Orca
Monitoring Linux performance with Orca
Monitor and troubleshoot Linux system performance with the free and powerful Orca.
Reading temperature sensors with Perl
Linux lets tinkerers connect their hardware creations to computers. We'll show you how you can use a simple Perl interface to check the temperature of your home or office while you're away.
Building a 3D model with Blender
Although Walt Disney's masterpieces are not forgotten, legacy cartoon techniques are a thing of the past. As long ago as 1995, the movie "Toy Story" proved that computers are more than up to the task of animating pictures. We'll help you get started with building your own animations.
Designing greetings cards with KreetingKard
If you want to send your friends birthday greetings or a personalized picture postcard, KreetingKard can help.
Customizing your GUI desktop
Just a few tweaks can give your system that individual touch.
Stargazing with Stellarium
If you like astronomy but you don't like sitting outside on cold nights, try stargazing from a virtual planetarium.
Cron, at
The cron and at utilities help automate processes on a Linux system. You can set up automatic backups or even wake up in the morning with a track from your MP3 collection.
Visit Our Shop
Direct Download
Tag Cloud