Issue #65 / Apr 2006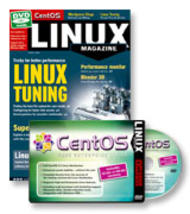 DVD: CentOS 4.2 (32-bit and 64-bit)
Community Notes
January was a busy start to the new year in the Linux community. Filled with the first conferences of 2006 – such a......
An up-to-date look at free software and its makers
Redet helps you create regular expressions, and solving Go problems is a good way to relax. We also examine the latest events at Debian, including recent talk about the GNU Free Documentation License.
Visit Our Shop
Direct Download
Tag Cloud