Issue #66 / May 2006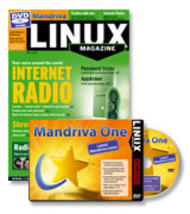 DVD: Mandriva One
Customizing the password popup window
We'll show you some tricks for configuring the root password popup window on Red Hat-based systems.
Power Management No matter which Linux distribution I'm using, I never can get the power management features to wor......
The Sysadmin's Daily Grind: Nmap 4
Many tools keep growing with each new version, but Nmap 4.00 has lost weight thanks to the Diet-Nmap project. The latest incarnation of Nmap is not only quicker, it is also more frugal with memory.
Hardening systems with AppArmor
After penetrating a remote system, intruders might think they are home and dry, but AppArmor spoils the fun, locking the miscreants in a virtual cage.
Building a parser with Perl
Lexers and parsers aren't only for the long-bearded gurus. We'll show you how you can build a parser for your own custom applications.
Digital TV with Klear
If you are weary of configuration battles with software for digital TV, try Klear, a TV system for Linux that is easy to install and use.
Finding and installing Firefox extensions
If you look around the Internet, you'll find a number of useful add-ons for Mozilla Firefox.
The Shredder chess program for Linux
Shredder 9 promises world championship chess on your home computer. We took a look at the new Linux version of the famous Shredder chess tool.
Monitoring and terminating processes at the command line
Innumerable processes may be running on your Linux system. We'll show you how to halt, continue, or kill tasks, and we'll examine how to send the remnants of crashed programs to the happy hunting grounds.
FOSDEM 2006 in Brussels
Non-commercial, uncomplicated and ever popular, 3,500 developers met on the campus of the Free University of Brussels for FOSDEM 2006.
Visit Our Shop
Direct Download
Tag Cloud