Issue #67 / Jun 2006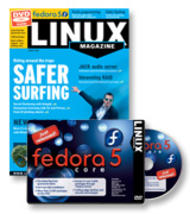 DVD: Fedora Core 5
Finding dead web links with Linkchecker
Linkchecker grooms your site to uncover references to missing pages.
System Crash My system keeps crashing at moments that seem completely random. Someone suggested I do a "memory dump......
The Sysadmin's Daily Grind: Cancerbero
When ports on a host start opening and closing like window shutters in a gale, it's time for admins to pay attention.
A first look at Samba 4
A technical preview version of Samba 4 became available at the end of January. We took a look at what's coming in the next version of the Samba file and print service suite.
Developing web applications with the Trails framework
Create Java applications in a fraction of the development time with the free and powerful Trails framework.
Building your own Nagios plugins
You can build a plugin in Perl to harness the power of the Nagios monitoring tool.
Exploring the JACK sound server system
The JACK audio server offers a professional sound alternative for the Linux desktop.
Interactive geometry with Dr. Geo
Want to study math the easy way? This award-winning teaching tool lets you master Geo even if you aren't Giotto.
LINUXUSER: Xrmap
Viewing the world with Xrmap
If you want to become an expert in world geography, why not get a little help from the CIA?
Synchronizing files with Rsync
Rsync lets you synchronize your data – on either a local or remote computer. You can even use Rsync with SSH to encrypt your data.
Visit Our Shop
Direct Download
Tag Cloud