Issue #71 / Oct 2006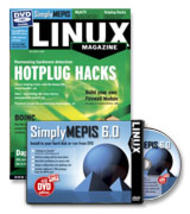 DVD: SimplyMEPIS 6.0
Fedora Core 5 I recently installed the Fedora Core 5. I installed the productivity version on an AMD Athlon 1300 us......
TUNNELING THE DUTCH BEACHES
What does Charly's recent two-week vacation in Holland have in common with an SSH session? Nothing at all, at first sight. And therein lies a tale.
Building a Netfilter firewall module
We'll show you how to build your own Netfilter extension with this example of a musical firewall.
A Perl script protects forums against spam
Spammers don't just send email. They exploit discussion forums and blogs, posting pseudo-messages full of links to dupe search engines. A Perl script cleans up the mess.
Managing notes with Treeline
Mindmaps are useful for organizing ideas and data. Treeline is a promising mindmap tool for KDE.
Building a custom groupware solution with Simple Groupware
If you have a need for custom groupware, try rolling your own with the Simple Groupware suite.
Network diagnostic tools
Linux has the right tools to track down network errors and open the way for data packets.
Heike pays a visit to the 2006 UKUUG Linux conference
Blue skies, lots of sun, a great conference venue, and about 200 Linux enthusiasts – that's the perfect recipe for another successful UKUUG summer meeting at the University of Sussex, Brighton.
News and views from the this year's OSCON
OSCON continues to grow in popularity and influence. Our Perlmeister stopped in for the talks, the tutorials, and the latest news from the battle lines of the digital millennium.
Community Notes
The annual Ottawa Linux Symposium just concluded in Ottawa, Canada, and it was every bit as fantastic as I expected......
Visit Our Shop
Direct Download
Tag Cloud