Issue #72 / Nov 2006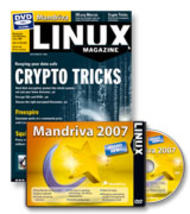 DVD: Mandriva Linux 2007
The Sysadmin's Daily Grind: Zsync
Zsync handles a special case: large volume download files that change frequently but not drastically. Charly shows how this handy file fetcher can save you time and bandwidth.
HTTP proxy with caching and content filtering on a bridge
Caching proxies remember web pages and serve them up locally, saving both money and time. The most intelligent members of this family also remove dangerous content and provide transparent bridging.
PROGRAMMING: Tcl3D
Adding three-dimensional models to your TCL scripts with Tcl3D
Tcl3D brings the world of 3D effects to TCL scripting. We'll show you how to get started with building your own 3D scripts.
Automatic regression tests with Selenium
Testing complex web applications does not necessarily mean investing in expensive, proprietary tools such as Test Director or Silk Performer. Selenium is for free; it can remotely control any major browser, and it is programmable in Perl.
Creating video DVDs with Kmediafactory
If your holiday videos and TV recordings are fillng up your home computer, burn them onto a DVD with Kmediafactory.
Implementing the bracket notation system in OpenOffice.org
We'll show you a universal system for marking changes in text documents; and along the way, you'll get some practical experience with writing OpenOffice marcos.
Polishing the terminal window with Bashish
Bashish adds a dash of style to the command line.
Working with the VIM text editor
Vim feels at home with any Linux distribution. This text mode only editor, which completely does without a mouse, is a useful aid for command line fans.
Hacking and hiking at the Linux Bier Wanderung 2006
Geeks don't bite, but insects and spiders do in the Aukstaitija (Highlands) National Park, site of this year's Linux Beer Hike (aka, Linux Bier Wanderung).
An up-to-date look at free software and its makers
The Esperantilo editor helps users write in the world language, and Kleansweep searches for dormant files. If you are an expert on compression algorithms, you can win 50.000 Euros. Also, the lowdown on the Cdrecord feud, and confirmation of the Etch release.
Visit Our Shop
Direct Download
Tag Cloud