Issue #73 / Dec 2006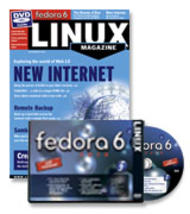 DVD: Fedora Core 6
Links deleted on reboot Several multimedia programs I use rely on the existence of "devices" such as /dev/dvd or /d......
The Sysadmin's Daily Grind: Arpalert
Corporate policies prohibit the unauthorized connection of hardware to the company network, threatening dire consequences in the case of non-compliance. Fair enough, but how do you actually go about catching somebody trying to plug an illegal laptop into your Ethernet?
Testing the Axigen, Kerio, and Merak commercial mail servers
They run on Red Hat Enterprise Linux, cost money, and juggle email messages: these three commercial mail servers aim to convince admins they are worth the price.
Integrating a realtime antivirus scanner with Samba
Realtime virus scanning at the file server is an elegant and efficient option for protecting Windows clients. We'll show you some tools and techniques for realtime scanning with Samba.
Exploring the Boo scripting language
Boo is a scripting language tailor-made for Mono and .NET. This haunting mixture of Python and C# may be just what you need to get started with the .NET framework.
Protecting data with a Perl-based rescue CD
Armed with just a rescue CD and a Perl script, you can back up a client's hard disk across the wire.
Keep your appointments on schedule with KAlarm
KAlarm is a lean alternative calendar program. You can use this handy alarm clock as an easy-to-use replacement for cron.
The Fish shell simplifies the console
The Fish shell offers some user-friendly features for command line beginners.
Screen recording with Vnc2swf
If you want to offer visitors to your website more than a text-based howto, why not publish a video-based tutorial with Vnc2swf.
Turn Firefox into an archiving and research tool with ScrapBook
A handy Firefox extension called ScrapBook lets you save, manage, and annotate web pages.
Visit Our Shop
Direct Download
Tag Cloud