Issue #73 / Dec 2006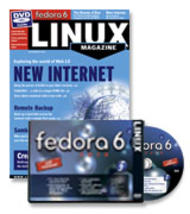 DVD: Fedora Core 6
Managing virtual terminals with Screen
Cast a spell upon your console. Instead of juggling multiple terminals, you can manage all your important command line programs in a single window.
The aKademy 2006 KDE developer conference in Dublin
Some 200 members of the KDE project met at Trinity College in Dublin at the end of September for the week-long aKademy conference.
An up-to-date look at free software and its makers
Ajax lets web developers concentrate on the important things and leave the browser abstraction to the libraries. Also in this issue, Cdrecord forked, Debconf in kilts, bugs squashed at Debian, and the latest news on Debian Etch.
Community Notes
In recent years, new features have begun to appear in car stereos. These days it is not hard to find a car audio sy......
Visit Our Shop
Direct Download
Tag Cloud