Issue #78 / May 2007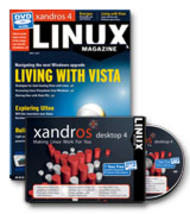 DVD: Xandros Desktop 4
Ulteo declares a desktop revolution
The top-secret Ulteo project aims for the goal of the world's easiest Linux.
Cross-browser Internet applications with OpenLaszlo
Long before Ajax hit the scene, Flash gave developers a basis for designing interactive web content. The OpenLaszlo framework, with its easy-to-learn command syntax, is the foundation on which many Flash applications build.
TeXmacs – A convenient layout program for your text documents
If you need to lay out a text document, you can opt for a WYSIWYG application, like OpenOffice, or a genuine layout system such as TeX. TeXmacs combines the advantages of both approaches: premium document quality and intuitive controls.
Klaus Knopper is the creator of Knoppix and co-founder of the LinuxTag expo. He currently works as a teacher, programmer, and consultant. If you have a configuration problem, or if you just want to learn more about how Linux works, send your questions to: klaus@linux-magazine. com
The sys admin's daily grind: Deborphan
Debian fans appreciate the ability to update their systems to a new release without having to reinstall. The Deborphan tool takes care of the victims of the upgrade by searching for orphaned packages on which no other packages depend.
Working with write barriers and journaling filesystems
Your journaling filesystem is carefully tracking write operations – but what happens when the data gets to the disk? A write barrier request can help protect your data.
Introducing the Mercury declarative, logical-functional, OO programming language
The Mercury programming language offers the expressive power of logic programming with the performance of an imperative language like C or C++.
A remote control to reset your router
My low-budget router has just crashed, and there is no way to reset the beast remotely via a network. Never fear – an X10 module, controlled by a web GUI with an Ajax interface, can actuate the mains switch.
Create a KDE-based recipe database
Balance your diet with a recipe database that serves up a healthy dose of KDE in your kitchen.
A wickedly useful application
What is WikidPad? Well, that's a tough one. The author calls it an "IDE for thoughts," and although that's a pretty good description, it just doesn't really do WikidPad justice. Basically, WikidPad is what you want it to be: a notebook, an address book, a to-do manager, and a desktop wiki.
Visit Our Shop
Direct Download
Tag Cloud