Issue #78 / May 2007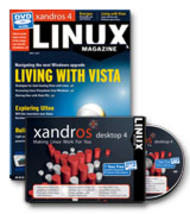 DVD: Xandros Desktop 4
Managing files with the Krusader twin-panel file manager
The user-friendly Krusader brings the time-honored twin-panel file manager format to the Linux desktop and offers easy shortcuts for keyboard users.
chmod, chgrp, and chown
A sophisticated system of users and permissions precisely controls who has access to what on Linux. At the command line, you can define ownership with the chmod, chgrp, and chown tools.
Walking the halls at FOSDEM 2007
On February 24 and 25, around 4,000 geeks gathered in Brussels, Belgium, for the Free and Open source Software Developers European Meeting (FOSDEM).
An up-to-date look at free software and its makers
Although a couple of scratches are visible, you can read from the backup CD. The question is, for how long? Cdck measures the sector access times to give you an idea. Have you overwritten the bootloader on your disk? Super Grub Disk to the rescue!
Community Notes
Jon Masters follows the recent foibles surrounding DRM – Digital Rights Management – and gives a roundup of the latest news from a variety of Linux community groups.
Visit Our Shop
Direct Download
Tag Cloud