Issue #81 / Aug 2007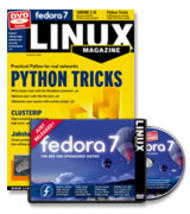 DVD: Fedora 7
Gnome's Brasero burning tool
Gnome's integrated burning tool is fine for simple tasks, but if you need to do more than just back up a couple of documents on a CD, you might prefer a more powerful program like Brasero.
Cal, Date, Hwclock, and NTP
I'm late, I'm late, for a very important date. For many applications, it is important that your PC has the correct time and time zone. We'll show you how to keep your PC clock ticking and how to use NTP to synchronize the time with a time server on the Web.
An up-to-date look at free software and its makers
This month we look at photo stitching, photo gallery software, and the Atunes music player.
Visit Our Shop
Direct Download
Tag Cloud