Issue #82 / Sep 2007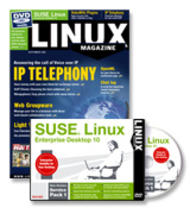 Exploring web-based groupware tools
Open source groupware tools have come of age. You are no longer limited to email and an address book. Some of these tools surpass the commercial alternatives – once you get them installed.
VJing with Veejay
Video jockeys (VJs) are a by-prod-uct of music TV. Instead of juggling with LPs, VJs projected colored images onto the screen. Today, all you need to be a VJ is a standard PC and the right effects program. To get started, you just need a couple of snippets of original video material and the free effects program, Veejay. According to the ads on the project homepage, Veejay "allows you to 'play' the video like you would play a piano."
Multimedia applications with OpenML
Programming multimedia applications in Linux used to be a tedious process, demanding specialized libraries and even custom code for addressing hardware directly. The OpenML library offers a simpler approach.
Klaus Knopper is the creator of Knoppix and co-founder of the LinuxTag expo. He currently works as a teacher, programmer, and consultant. If you have a configuration problem, or if you just want to learn more about how Linux works, send your questions to: klaus@linux-magazine. com
The sys admin's daily grind: Unison
Charly may be a traditionalist with sync-unfriendly duplicate home directories, but a little utility called Unison helps keep his data consistent . This month you'll learn why Rsync sometimes isn't enough.
The Cherokee and Lighttpd alternative web servers
Apache has ruled the web since the mid-90s, but not all users are happy with it. Recent competitors Cherokee and Lighttpd offer an uncomplicated alternative for users who are looking for something light.
Tools for checking system status
A system monitor lets you query the system's current health state. If you are unhappy with the spartan Top tool, try one of these easy alternatives.
Gaim play
Are you interested in storing, organizing, and searching instant messaging conversations on your IMAP server? The Perl script in this month's column can help you do just that.
Video Chat with Yahoo
Kopete and Gyachi bring Yahoo videochat services to Linux.
Reaching MSN networks from Linux with aMSN
aMSN lets Linux users communicate with associates on Microsoft instant messaging networks. In this article, we'll show you how to reach out to your friends in the empire.
Visit Our Shop
Direct Download
Tag Cloud