Issue #82 / Sep 2007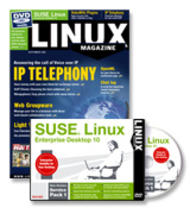 DokuWiki plugins
DokuWiki is a useful wiki system already, but you can take its functionality to a whole new level using some of the available plugins.
Redirecting input and output
Working in the shell has many benefits. Pipelines, redirectors, and chains of commands give users almost infinite options.
The Debian Developer Conference 2007
From the 17th to 23rd of June, about 400 Debian developers from all over the world met in Edinburgh, Scotland, to listen to talks, attend workshops, hack some free software, and have a good time.
Planning and coding at KDE's aKademy 2007
Around 300 KDE developers met in Glasgow, Scotland, for this year's aKademy KDE conference.
SchoolNet Namibia promotes OSS with comics
If you want to promote the use of open source software, you might like this innovative approach out of Africa – comic strips.
An up-to-date look at free software and its makers
This month, we look at free projects as a replacement for Flash and Java. Both Flash and Java are so widespread that you can't realistically do without them, so it's a pity that both are released under proprietary licenses. The community has started to remedy the situation.
Visit Our Shop
Direct Download
Tag Cloud