Issue #83 / Oct 2007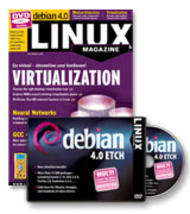 Convenient display setup with DDCcontrol
If you like to customize display settings, you might try DDCcontrol – a tool that takes the headaches out of display configuration.
LINUXUSER: Mrxvt
Tabbed terminal emulation with Mrxvt
Tired of too many terminal windows? Mrxvt is a tab-based terminal tool that lets you manage several sessions in a single window.
ANSI escape sequences
This month, we'll show you how to decorate your console and give it a fresh new look by adding color to the command line with ANSI escape sequences.
The 2007 Gnome Users and Developers Conference
More than 400 Gnome users and developers gathered in the United Kingdom for the July 2007 GUADEC conference.
Open in Oregon
More than 2500 open source enthusiasts met in Oregon for O'Reilly's annual OSCON convention.
An up-to-date look at free software and its makers
We look at the Wwwoffle proxy server, the Rubrica contact data manager, the eSvn GUI-based SVN front-end, and the MDB Tools converter.
Visit Our Shop
Direct Download
Tag Cloud