Issue #85 / Dec 2007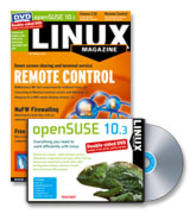 COVER STORY: LTSP
Getting started with the Linux Terminal Server Project
The Linux Terminal Server Project offers a comprehensive approach to terminal services in Linux, including easy access to local sound cards, printers, and USB sticks.
Linux Administrator Street Smarts Network Management Managing the Test People Professional Apache Tomcat 6...
Gnome 2.20 in detail
The new release of the GNU desktop spoils users for choice with a whole bunch of innovations.
Building a custom live CD with Fedora's livecd-creator
Fedora 7 comes with new tools for creating custom live CDs and custom .iso files. We'll show you how to get started with Fedora's new command-line tool, livecd-creator.
Creating custom text effects in GIMP
GIMP offers plenty of options for creating custom text effects. We'll show you how to sweeten your text with bold outlines, tasty color, 3D effects, curves, and more.
Activating your multimedia keys with ReMoot
If your laptop multimedia keys aren't working in Linux, the fix could be easier than you think. We'll show you how to manage multimedia applications from the keyboard using ReMoot.
KNOW-HOW: AuFS
Configuring the AuFS filesystem for terminal clients
AuFS offers a painless filesystem for a thin client, and FS-Cache provides a persistent cache.
Klaus Knopper is the creator of Knoppix and co-founder of the LinuxTag expo. He currently works as a teacher, programmer, and consultant. If you have a configuration problem, or if you just want to learn more about how Linux works, send your questions to: klaus@linux-magazine. com
The sys admin's daily grind: WebCalendar
If you are like me and have a selective memory, your laptop, mobile phone, and WebCalendar can help you keep track of your schedule. Like most other effective remedies, this solution has a couple of strange side effects.
Firewall-based authentication with Edenwall
Instead of granting access by address, the NuFW Netfilter module provides identity-based authentication. The Edenwall firewall appliance comes with built-in NuFW technology.
Visit Our Shop
Direct Download
Tag Cloud