Issue #85 / Dec 2007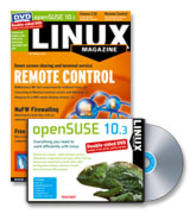 Skydiving simulation with Perl
Computer game programmers apply physical formulas and special tricks to create realistic animations. Simple DirectMedia Layer (SDL), which is available as a Perl wrapper, provides a powerful framework for creating simple 2D worlds with just a couple of lines of code.
Electronic document archives with gscan2pdf
Many scanner tools confuse users with functional overkill. The clear-cut gscan2pdf scanning aid gives users a simple approach to converting existing paper documents into space-saving PDF files.
Getting beyond vi with the vim text editor
You don't have to use the vim text editor as a latter day vi. These simple tricks will save you time and keystrokes.
Applications for getting things done
Task managers can help you get things done, but the first task is to choose the application that meets your needs. We take a closer look at iKog, Thinking Rock, and MonkeyGTD and recommend a few other GTD managers you might want to take for a spin.
Wireless Tools
Sunshine, pool, laptop, an open WLAN, and Wireless Tools were all it took for Heike to submit the latest issue of "Command Line" from Crete.
Ties, T-shirts, and telephones
OSiM, Open Source in Mobile, is a series of events dedicated to exploring the role of open source in the world of mobile phones. The latest installment was held in September in Madrid, Spain.
Perlmeister Mike Schilli celebrates 10 years
"One or two years in the USA would be great," Mike Schilli thought back in 1996. The "Perlmeister" has lived in San Francisco for 11 years now, and he's been writing the regular Perl column for almost as long.
An up-to-date look at free software and its makers
The recent discussion concerning the future of Mozilla Thunderbird is one example of the needs of a corporation vs. those of the user community.
Visit Our Shop
Direct Download
Tag Cloud