Issue #90 / May 2008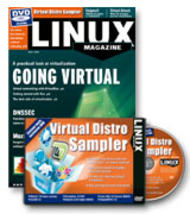 Virtualizing rootkits and the future of system security
A new generation of rootkits avoids detection by virtualizing the compromised system – and the user doesn't notice a thing.
Managing photo collections with Album Shaper
Digicams almost completely replaced legacy cameras, and now Album Shaper offers a replacement for photo albums.
The Kosmos distributed FS
Distributed filesystems effortlessly juggle enormous files in the gigabyte and terabyte ranges. The Kosmos filesystem plans to impress its competitors.
Launching web applications in Prism
More and more manufacturers are starting to offer their services directly in the form of web applications. Prism lets you use them like local applications.
Hercules mainframe emulator
Many enterprises still rely heavily on mainframes, which makes it all the more difficult to get your hands on one and install Linux on it. The Hercules emulator gives you a full-fledged alternative.
Klaus Knopper is the creator of Knoppix and co-founder of the LinuxTag expo. He currently works as a teacher, programmer, and consultant. If you have a configuration problem, or if you just want to learn more about how Linux works, send your questions to: klaus@linux-magazine.com
The sys admin's daily grind: Nload
Network monitors are a dime a dozen, but Nload, which separates incoming and outgoing traffic and draws graphs on the console without X, is unique.
Trusted name resolution with DNSSEC
Some Internet exploits target name resolution servers. DNSSEC uses cryptography to protect the name resolution service.
Graphic display of portfolio stock values
We'll show you a Perl script that helps you draw area graphs to keep track of your portfolio's performance.
Visit Our Shop
Direct Download
Tag Cloud