Virtual Distro Sampler
Virtual Distro Sampler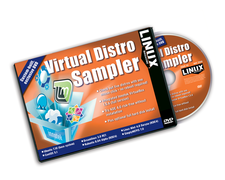 This month we bring you a Virtual Live Distro Sampler created exclusively for Linux Magazine and Linux Pro Magazine. Try out any one of the five Live distros without rebooting.
The Live base system is a fully installable version of Ubuntu 7.10 Gutsy Gibbon – with all the latest updates and security patches. Ubuntu 7.10 comes with better security, improved 3D effects, write support for NTFS partitions, a new automatic printer configuration feature, improved power management, and additional updates and enhancements.
Running on Gutsy Gibbon is the VirtualBox 1.5.6 virtualization environment. Inside this virtual environment, you can sample and test any of the following Live distributions:
CentOS 5.1 Live
The CentOS community distribution is based on source code from Red Hat Enterprise Linux.
This Live version comes with a healthy collection of end-user tools, plus a handy toolkit of diagnostic and rescue utilities.
DreamLinux 3.0 RC1
DreamLinux is a modular Linux system based on Debian and Morphix. The DreamLinux developers pride themselves in delivering plenty of applications for the desktop and lots of interesting add-ons.
Kubuntu 8.04 Alpha "KDE 4"
If you haven't already heard, Kubuntu Linux is Ubuntu with KDE. This alpha version of Kubuntu 8.04 might be your first look at what's coming up in Ubuntu "Hardy Heron."
Tour the new KDE 4 desktop and browse through the gallery of tools that makes Kubuntu a favorite of Linux users around the world.
comments powered by

Disqus
News
Both projects help organizations build their own containerized systems.

Mark Shuttleworth has resumed the position of CEO of Canonical.

Microsoft's open source code hosting platform CodePlex will come to an end after a more than 10-year stint.

Comes with Gnome 3.24

The bug was introduced back in 2009 and has been lurking around all this time.

The new release deprecates the sshd_config UsePrivilegeSeparation option.

Lives on as a community project

Five new systems join Dell XPS 13 Developer Edition that come with Ubuntu pre-installed.

The Skype Linux client now has almost the same capabilities that it enjoys on other platforms.

At CeBIT 2017, OpenStack Day will offer a wide range of lectures and discussions.