Issue #91 / Jun 2008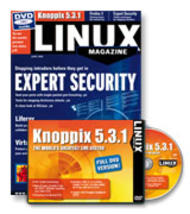 Working with Access Control Lists
The ancient Linux permission system is often insufficient for complex production environments. Access Control Lists offer a flexible alternative.
Mandatory Access Control (MAC) with SELinux
SELinux provides a safer system through the powerful concept of mandatory access controls.
The next generation: Mozilla Firefox 3
The next major release of Firefox promises changes to the user interface and serious speed benefits. Firefox 3 seamlessly integrates the Gtk environment and offers a plethora of new features.
Free communications on the Freenet network.
The Free Network Project provides a safe environment for free speech – even for users who fear censorship.
Enterprise Collaboration with Liferay
Liferay is a powerful and easily customizable CMS that is ideal for community collaboration – once you get it configured.
Klaus Knopper is the creator of Knoppix and co-founder of the LinuxTag expo. He currently works as a teacher, programmer, and consultant. If you have a configuration problem, or if you just want to learn more about how Linux works, send your questions to: klaus@linux-magazine.com
The sys admin's daily grind: RSyslog
Well-used services write reams of log information to disk, which is not only bothersome from a storage perspective but also pushes grep and the usual group of statistics tools to their limits. Will hitching the syslog daemon up to a database help?
Dynamic DNS with a virtual web server
A virtual server with a dynamic DNS service might just be the easiest way for a home user to implement an Internet website.
Visit Our Shop
Direct Download
Tag Cloud