Issue #91 / Jun 2008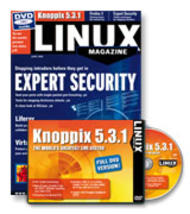 Building efficient websites with AJAX
Books were the original model for website design. Navigation was similar to flipping the pages. Thanks to AJAX, many state-of-the-art websites now behave like desktop applications.
Perl script uses Ptrace for process tracing
Linux lets users watch the kernel at work with a little help from Ptrace, a tool that both debuggers and malicious process kidnappers use. A CPAN module introduces this technology to Perl and, if this is not enough, C extensions add functionality.
Mozilla Thunderbird calendar add-on
The Lightning add-on lets users upgrade their Mozilla Thunderbird email client and turn it into a convenient, versatile groupware product.
FileZilla ftp client
High-performance GUI-based ftp clients for Linux are hard to find. The graphical FileZilla ftp client closes the gap.
Must-have tools for the Linux laptop
Pack your Linux laptop with the right set of tools. We take a closer look at Adblock Plus, woof, Conky, TrueCrypt, rsync, and Grsync.
Mail at the command line
The simple mailx command-line mail client handles mail either interactively or via command-line options. Although it lacks the convenience of a GUI-based tool, mailx compares well in scripting.
Making the Knowledge Economy Work for Africa
The Free Software and Open Source Foundation for Africa recently hosted the third Idlelo conference, which focused on "Making the Knowledge Economy Work for Africa."
A view from Brainshare 2008
Novell vendors, developers, and users exchanged metaphors and business cards in Salt Lake City.
An up-to-date look at free software and its makers
Should free development be a part of free software, or is Apache pioneer Roy Fielding asking too much of Sun? Besides looking at the commercial side of free software, this month's column investigates synchronization of speech and text.
Visit Our Shop
Direct Download
Tag Cloud