Issue #93 / Aug 2008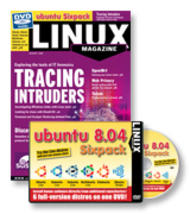 COVER STORY: OCFA
Exploring the Open Computer Forensics Architecture
Automate the forensics process with the Dutch police department's Open Computer Forensics Architecture.
What's new in openSUSE 11.0
The second major release since SUSE became a community project is looking good. We took openSUSE 11.0 for a test ride.
KNOW-HOW: TorK
Configuring the Tor network with TorK
If you're worried about eavesdroppers, connect to the Tor network with KDE's handy TorK configuration tool.
Customizing your home router with OpenWrt
Learn how to take control of your home routing device with OpenWrt.
KNOW-HOW: DCCP
Developing multimedia applications with DCCP
The DCCP protocol gives multimedia developers a powerful alternative to TCP and UDP.
Creating training videos with recordMyDesktop
A training video of a new application can really reduce the learning curve. The recordMyDesktop program is at an early stage of development but already stable enough for everyday use. We'll show you how to use the program to capture custom procedures in a desktop video.
Klaus Knopper is the creator of Knoppix and co-founder of the LinuxTag expo. He currently works as a teacher, programmer, and consultant. If you have a configuration problem, or if you just want to learn more about how Linux works, send your questions to: klaus@linux-magazine.com
The sys admin's daily grind: Getting wet at LUG Camp
Charly reports from LUG Camp in Flensburg, Germany. The fact that Charly got wet has nothing to do with absent mindedness, but much to do with the sheer wetness of the event.
The Debian OpenSSL disaster
Find out what we can learn from the Debian OpenSSL disaster.
Visit Our Shop
Direct Download
Tag Cloud