Issue #94 / Sep 2008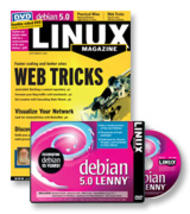 Retouching with Perl
In many cases, whole series of digital images need the same kind of modifications, which forces the photo-grapher to repeat the same steps time and time again in GIMP. Have you ever considered retouching in Perl?
Image manipulation with Fotoxx
The Fotoxx image manipulation program offers highlights such as HDR and panorama functions, but where there is light, there is also shadow.
Comparing files with BeeDiff
BeeDiff compares two files and quickly displays the differences in a convenient desktop GUI interface.
Yafc ftp client
The console-based yafc client gives users a convenient, simple, and interactive approach to exchanging data with ftp and SSH servers.
How to bookmark anything in OpenOffice.org
Learn how to bookmark OpenOffice.org documents with the Bookmarks Menu extension or create your own bookmarking tool.
Jon 'maddog' Hall writes about the community
Jon 'maddog' Hall introduces himself and rolls out the first installment in his new monthly community-focused column.
How the Internet Connects Knowledge
Learn from the chair of HICK Tech how to roll out your own community event.
A report from Red Hat Summit
We sum up this year's Red Hat Summit, which was held in June in Boston, Massachusetts.
An old conference that's still fresh
USENIX 2008 offered a rich history, engaging talks, and more openness.
An up-to-date look at free software and its makers
Now that we have entered the age of three-dimensional desktops, suggestions on redesigning controls keep springing up like mushrooms. When Gnome 3.0 sees the light of day, will the menus be circular and include files alongside applications?
Visit Our Shop
Direct Download
Tag Cloud