Issue #95 / Oct 2008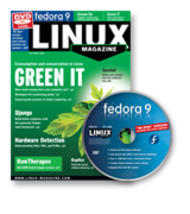 Creating graphic animations with Processing
The Java application known as Processing can make a computer artist of a non-programmer. We'll show you how to create moving objects and publish a Flash-style applet.
Automate your color correction with a Perl script
If you have grown tired of manually correcting color-casted images (as described in last month's Perl column), you might appreciate a script that automates this procedure.
Processing RAW files with RawTherapee
RAW format images offer more options for editing than JPEG formats – RawTherapee brings this potential to Linux.
Alternative file manager for Gnome
Twenty years ago, Peter Norton created a simple file manager with a split-view display. Can Gnome Commander inherit the veteran's crown?
Launching programs and actions with Gnome Do
Information at your fingertips with actions to match – Gnome Do merges search engine and application launcher functionality to create a new and convenient tool.
A look at note-taking applications
Although there are quite a few note-taking applications to choose from, we'll show you why NoteCase and NoteFinder should be at the top of your list.
Alas, my love, you do me wrong
maddog finds out that copyright prevents preserving paper player piano rolls.
LugRadio Live Wolverhampton 2008
Popular podcast goes out with a gong but will return with a new mascot.
Open source enthusiasts sweep into Portland
O'Reilly's annual OSCON event attracted a range of open source enthusiasts who were treated to impressive keynotes, a range of "lightening talks," and plenty of in-depth technical sessions.
An up-to-date look at free software and its makers
Sweet Home 3D gives you classy interior design on most operating systems and in the real world. We'll show you how to experiment with interiors without moving the furniture.
Visit Our Shop
Direct Download
Tag Cloud