Issue #96 / Nov 2008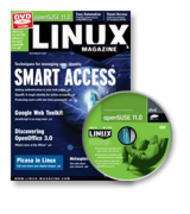 DVD: openSUSE 11.0
Getting started with Google Web Toolkit
The Ingenious Google Web Toolkit builds optimized JavaScript applications in a hurry.
Question and answer system for the web
Catalyst is the Ruby on Rails of the Perl universe. When you are developing a web application like a quiz, using the MVC framework is really convenient and helps keep the underlying components cleanly separated.
Picasa 2.7 image manager
In the age of the digital camera, users are overwhelmed by a flood of images. Picasa not only helps you manage photos but also will enhance the image quality with just a couple of mouse clicks.
Serving up music with Sockso
The Sockso music server offers easy listening regardless of your system or location.
Python-based personal data manager
We get personal with Pygmynote, a simple Python-based personal data manager.
Seeking the next Einstein
The openness of free software spurs innovation across generations and time zones.
Researchers and practitioners head to San Jose
The 17th Security Symposium met in San Jose, California, USA, during the week of July 28, with a refereed paper track and Invited Talks.
KDE Akademy 2008
About 300 attendees gathered at this year's annual KDE desktop developer event in Sint-Katelijne-Waver, Belgium.
An up-to-date overview of free software and its makers
If you want to convert a bunch of audio files into another format and prefer to steer clear of the command line, the Gnac graphical tool might do the trick. Also, the Gourmet Recipe Manager helps out in the kitchen.
Visit Our Shop
Direct Download
Tag Cloud