Issue #97 / Dec 2008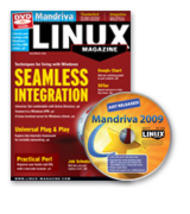 DVD: Mandriva 2009
A Perl script catalogs books and CDs with the help of barcodes
Barcodes efficiently speed us through supermarket checkout lines, but the technology is also useful for totally different applications. An inexpensive barcode scanner can help you organize your private library, CD, or DVD collection.
Practical add-ons for Thunderbird
Mozilla Thunderbird email client continues to gain ground thanks to its multitude of internal features, and add-ons help to extend its functionality.
LINUXUSER: iTalc
iTalc classroom management software
iTalc gives teachers complete control over the digital classroom and integrates the PC as a learning aid and tool.
BambooInvoice web-based invoicing application
If you want your business to run smoothly, deploying a dependable invoicing solution should be among your top priorities. BambooInvoice offers a user-friendly, web-based invoicing solution.
When is 25 percent more than one quarter of the cost?
Governments need a better understanding of the flexibility and security of open source software.
Hiking and hacking in Switzerland
Snow-covered white mountains, green meadows, yellow cheese, purple cows, the distant sound of yodeling marmots, and plenty of Linux people from all over the world – a perfect combination for a geek event.
A report from VMworld 2008
VMworld, the world's largest virtualization event, offered a variety of technical events, birds-of-a-feather sessions, press conferences, and perhaps the biggest IT party ever. VMworld's fifth year is one to remember.
An up-to-date overview of free software and its makers
The free high-end game, Yo Frankie, in which players steer a flying squirrel through a colorful 3D world, is almost finished. KI Research still faces major issues, but FreeHAL, a dialog program, gives users a behind-the-scenes look at the current state of affairs.
Visit Our Shop
Direct Download
Tag Cloud