Issue #100 / Mar 2009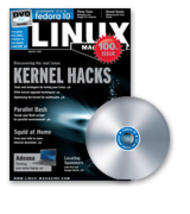 Exploring alternatives to MythTV
Beyond MythTV and VDR are media centers that take a new approach – or at least make the beaten track look a little different.
Filtering home Internet access with Squid
Are your children wearing out their eyeballs on the Internet? Squid will help you impose some time limits and filter out inappropriate content.
Optimizing bash scripts for multi-core processors
You don't need a heavy numeric mystery to benefit from the wonders of parallel processing. This article describes some simple techniques for parallelizing everyday bash scripts.
Klaus Knopper is the creator of Knoppix and co-founder of the LinuxTag expo. He currently works as a teacher, programmer, and consultant. If you have a configuration problem, or if you just want to learn more about how Linux works, send your questions to: klaus@linux-magazine.com
The sys admin's daily grind: SA-Update
SA-Update helps beleaguered admins face the onslaught of consumer trash.
The death of MD5 (and some SSL certificates)
Researchers set out to compromise MD5 in an effort to convince people to stop using it. We explain how the attack worked and what this means for you.
SYSADMIN: FAI
Deploying Debian systems with FAI
FAI helps you automate the process of installing and configuring new Debian systems.
Find spammers with the help of a database and Google Charts
To identify the geographic regions from which link spam originated, a database locates IP addresses and the Google Charts service puts them onto a world map.
Visit Our Shop
Direct Download
Tag Cloud