Issue #101 / Apr 2009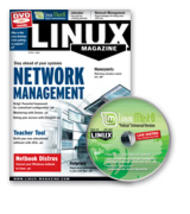 Perl applets extend a platform-independent desktop panel
One panel has a neat collection of applets and another has spectacular looks – but a combination of the two is rare. Now help draws nigh for the desktop: PerlPanel is extensible with do-it-yourself widgets.
Making tracks with the Jokosher audio editor
If Audacity, Ardour, or ReZound are too muddled for your taste, try the easy and powerful Jokosher audio editor.
Educational software doesn't necessarily have to be developed by programmers. JClic gives educators an easy option for developing exercises for their students.
LINUXUSER: Osmo
Managing appointments and contacts with Osmo
Thanks to its compact interface, the Osmo PIM application is perfect for small screens. We help you make the most of Osmo.
Command-line productivity tools
Read email, use your calendar, and check RSS feeds faster than you can say, "Ooooo, pretty."
All I want to do is make money writing Free Software!
When you write free software, it's a good idea to consider your goals. You might even want to draw up a business plan.
25th Chaos Communication Congress
Chaos Communication Congress visitors were probably more interested in their digital civil rights, as reflected in the congress motto "Nothing to hide," but first they had to cope with closed ticket counters and overflowing rooms.
An up-to-date overview of free software and its makers
The final release of the Songbird web player hits the tightly packed music player scene. With the same extensibility common to the Mozilla family, Songbird gets ready to find its niche and ruffle some feathers.
Visit Our Shop
Direct Download
Tag Cloud