Issue #102 / May 2009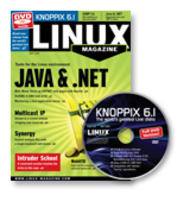 The Sysadmin's Daily Grind: NicTool
For the longest time, Charly used vi to edit his nameserver's zone data, which isn't too elegant because a mere fat-finger will get you into DNS trouble. Fortunately, NicTool will help ease the pain – even in the midst of a move big enough to kick up a dust storm.
File and protocol attacks
We explain how file or protocol fuzzing leads to direct improvements in code quality. You'll also learn more about available open source fuzzing tools.
Replicating WINS servers on Linux with Samba4Wins
Samba4Wins lets you set up a WINS server for NetBIOS name resolution in Linux.
Putting an oldtime tint in your digital images
With the GIMP image editing program, and a little help from Perl, you can enhance your digital photos and transform a modern image into a nostalgic turn-of-the-century shot.
Distributing files with Fsniper
Every day, computers are inundated with hundreds of files. Fsniper welcomes the new arrivals and processes them according to rules that you define.
LINUXUSER: Zim
Managing notes with Zim
The Zim information manager offers far more than digital notes by exploiting data networking options.
Collecting and processing information with Chandler
We'll help you organize your data with Chandler, an application that lets you gather information and then decide how to use it.
Generating a good problem report
Help your support person help you: Gather information before you call.
Days and nights at FOSDEM 2009
More than 5,000 people gathered in Brussels for FOSDEM 2009. Attendees learned to guard their in-demand netbooks, and representatives from major open source projects explained the agendas for upcoming releases.
Visit Our Shop
Direct Download
Tag Cloud