Issue #103 / Jun 2009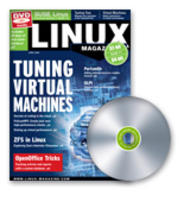 PROGRAMMING: Boo
Programming with Boo
Hooked on Python's "wrist-friendly" syntax? Enamored of .NET architecture but equally appreciative of C#'s strong typing? Boo offers the best of three worlds.
Perl script controls toy USB canon
Although a USB toy such as a polystyrene rocket launcher only includes a Windows CD, it works fine on Linux with a spot of reverse engineering. With libusb, this doesn't even require compiling a device driver – Perl controls the device from userspace.
Exploring the yum package manager
Install and manage packages from the command line with the powerful yum package manager.
LINUXUSER: Xoops
Exploring the Xoops CMS
The lean Xoops CMS offers only basic functionality, but it is easy to extend.
Creating a submission tracker with OpenOffice.org Base
Writers who submit papers to publications can create a database to track and report the status of their projects.
Performance that the GUI can't touch
Far from an anachronism, the command line lives on as an indispensable part of the modern free desktop. Viva the command line!
Why volume is (almost) everything
If you're starting from scratch, you'll need a lot of users to attract a strong development community.
Fun, games, and serious funding
Drupal community leaves its semi-annual conference more than US$ 650,000 richer.
An up-to-date overview of free software and its makers
Even admins get bitten by the gaming bug. Frets on Fire lets you train for an air guitar competition. Or try the free business simulation clones Transport Tycoon, Simutrans, or OpenTTD.
Visit Our Shop
Direct Download
Tag Cloud