Issue #105 / Aug 2009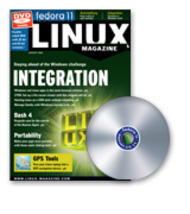 Installing distros on USB sticks with Unetbootin
Unetbootin lets users set up almost any distribution on a bootable USB stick.
GPS the open source way
Open source GPS navigation systems show you the way to go home … or anywhere else you want to go.
Linking static applications with Statifier and Ermine
The PIM application you copy to a USB stick might refuse to run on a borrowed machine if it has problems with a library. Statifier and Ermine set up your apps for any distribution.
All-in-one solution
Back up, synchronize, version, and collaborate with SpiderOak.
...
The sys admin's daily grind: TTYtter
Twitter, so everyone says, is modern, fun, sociologically illuminating and otherwise useless. Even Charly feeds a budgie – but at the console, it's a question of style.
Make off-site backups or you will lose your data
Who needs attackers when you have system administrators? Learn why copying your data doesn't mean you've backed it up.
Debugging with strace
After "Hello World," you really need to look at system calls in more detail. In this second of two articles, we'll look at debugging in the real world.
Visit Our Shop
Direct Download
Tag Cloud