Issue #105 / Aug 2009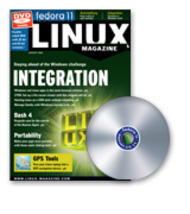 Draw Google diagrams from a Perl script
A CPAN module passes drawing instructions in object-oriented Perl to Google Chart, which draws visually attractive diagrams.
Managing GPS data with ActivityDiary
ActivityDiary creates a handy digital diary by mapping your workout and route GPS data.
Serves you right
This cloud-in-a-box serves up shared space for a jukebox, photos, blogs, file sharing, workspace apps, and more.
Building a database with Kexi
Kexi, part of the KOffice suite, allows anyone to create, populate, and maintain a database.
Finding system information from the command line
The command line provides a plethora of information that you cannot obtain from the desktop.
Do not reinvent the wheel
Others have walked a mile (or more) in your shoes.
An up-to-date overview of free software and its makers
Why are there so few female programmers on the open source scene? A discussion in the Ruby community reveals some unpleasant answers. In other news, the Uget download manager celebrates a comeback.
Visit Our Shop
Direct Download
Tag Cloud