Issue #106 / Sep 2009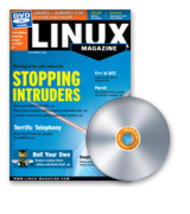 Linux software on Mac OS X
An increasing number of Linux desktop users also run a Mac, and although the Mac has a lot of great programs, Linux has a lot of apps you can't get natively for the Mac.
...
KNOW-HOW: eBox
Free SME server
eBox bundles intelligent and useful services needed to set up a small- to medium-sized network: DHCP, DNS, and web servers.
Controlling monitors & video projectors with RandR
The RandR X server extension gives users more intuitive control over video projectors and multi-head installations.
The sys admin's daily grind: LUG Camp and Iotop
Immenstadt, Germany, was the site of the 10th anniversary LUG Camp for the founding Linux User Groups from Germany's Allgäu and Augsburg.
Denial of service made easy
A slow death for the default configuration.
VoIP with FreeSWITCH
FreeSWITCH is a powerful and versatile telephony platform that can scale from a softphone to a PBX and even to a carrier-class softswitch.
Migrating open source code repositories from CVS to GitHub
GitHub makes it easier for programmers to contribute to open source projects by simplifying and accelerating communications between project maintainers and people willing to contribute.
New features in the GCC versions 4.3 and 4.4
Recent versions of the GNU compiler include new features from the next C++ standard.
Visit Our Shop
Direct Download
Tag Cloud