Issue #106 / Sep 2009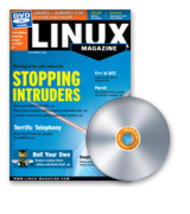 PROGRAMMING: Parrot
An introduction to Parrot
Parrot is an all-in-one tool for developing and executing new programming languages. Perl 6 runs on Parrot; chances are your language can run on it, too.
Designing ASCII graphics with JavE
The free JavE ASCII editor lets you create diagrams, brighten email messages, write circuit diagrams, create cartoons, or just design ASCII art for pleasure.
Roll your own Linux with Slax
With its novel package manager, Slax makes it simple to install new software and easy to build your own distributions.
Working virtually with OpenGoo
The open source project OpenGoo wants to be the best web office around.
Viewing files, up close and personal
If you just want to peek into a text file, Linux has an abundance of commands to satisfy your curiosity.
From hacker to programmer
The difference between hacking and developing software might lie in the quality of testing and documenting projects.
An up-to-date overview of free software and its makers
The Krita graphics program celebrates its 10th birthday and a successful jump to KOffice 2.0, while the Mistelix DVD creator gets ready to grow up.
Although spam filtering and blocking is helpful for the end user, it doesn't stop the production of spam. KnujOn strikes spam at the source.
Visit Our Shop
Direct Download
Tag Cloud