Can that Spam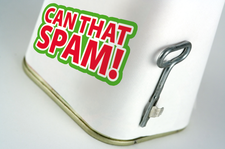 Although spam filtering and blocking is helpful for the end user, it doesn't stop the production of spam. KnujOn strikes spam at the source.
Unsolicited electronic material is more than just an annoyance. In 2004, Ferris Research Inc. estimated that spam costs US organizations more than US$ 10 billion dollars per year in manpower, software expenses, and lost productivity [1]. In addition, affected systems can suffer from a distributed loss of bandwidth and occasional server failures, not to mention the risk of virus infection and the dangers of phishing expeditions.
Citizens, consumers, politicians, law enforcement agencies, and security professionals come together with KnujOn [2] to expose Internet spammers. KnujOn (which is "No Junk" spelled backwards) is an online service that sorts junk mail, compiles information on spammers, and attempts to identify domain names associated with spam activity.
According to the website, KnujOn has helped shut down over 200,000 junk email sites. Law enforcement organizations use KnujOn's extensive spam database to search for illegal activities, and many corporations use KnujOn's services to protect their brands. For instance, a drug company or a bank can use KnujOn's services to chase down knock-off products and services that illegally infringe on registered trademarks. The participants who send their junk mail into KnujOn also benefit by shutting down spam sites and reducing the volume (and effectiveness) of spam on their own networks.
[...]
Comments
Federal Law Enforcement should be using their powers to stop SPAM

The Federal Government is analyzing everything flowing in and out of the country on the Internet in the name of hunting for terrorists. See http://www.washingtonpost.c...409-2003Jan30?language=printer , http://www.theinternetpatro...-att-whistleblower-mark-klein/ .

Why don't they use all this "awesome" power to search out the source of the botnets, which are sending a huge majority of the spam, or why don't they find the people behind all the illegal pharmacy web sites?

As stated in this article, SPAM costs the world a huge amount of money and lost productivity. Is there too much money to be made by the "anti-virus" and "security" software industry? Have they lobbied the politicians to hold back on the pursuit of these criminals? It doesn't make any sense, otherwise, why the police agencies aren't using more effort to catch the spam crooks.

Imagine an Internet without any spam! Wouldn't that be nice?

Cheers!
Monsoon

comments powered by

Disqus