Ubuntu and Kubuntu 9.04
Ubuntu and Kubuntu 9.04
The popular Ubuntu Linux is a favorite for home users as well as the business desktop set. Ubuntu offers stability, excellent community support, and a clear, uncluttered user interface. This month's DVD comes with both Ubuntu 9.04 and the popular Kubuntu variant on a double-sided disc.
The 9.04 "Jaunty Jackalope" release features faster boot times, an innovative notification app, and several new tools, including the PulseAudio music server. If you prefer the Gnome desktop, try Ubuntu. If you favor KDE, start with the Kubuntu side. A built-in Live boot option lets you boot the system from the DVD and test drive Jaunty Jackalope without disturbing the contents of your hard drive.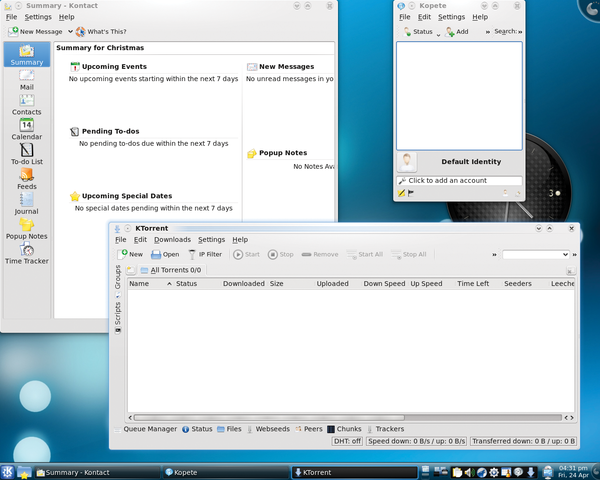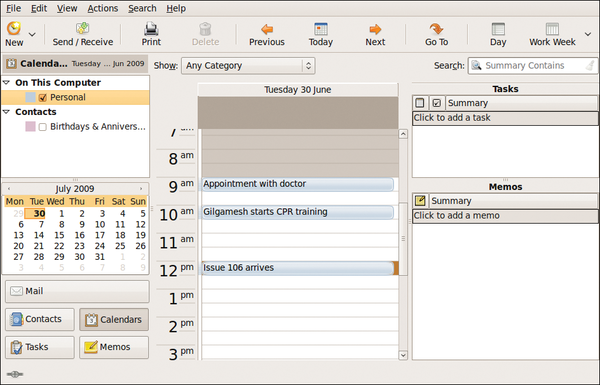 Linux kernel 2.6.28
Gnome 2.26
Nautilus 2.26
Evolution 2.26
Synaptic 0.62
Firefox 3.0.0
GIMP 2.6.6
OpenOffice 3.0
Rhythmbox 0.12
F-Spot 0.5.0
Ekiga 3.2
Tomboy 0.14
Kubuntu comes with KDE 4.2 and an equivalent collection of KDE-based desktop tools
Xserver 1.6
Presto
Processor: Runs on most Intel x86-based PCs, such as Intel Pentium and AMD Athlon
Memory: 384MB Minimum
Free Disk Space: 2GB Minimum
Place this DVD in the drive and restart your system. If your computer doesn't start, make sure your BIOS is configured to boot from a DVD. Enter the BIOS setup menu (see your vendor documentation), make sure DVD boot is enabled, and make sure the DVD drive appears before the hard drive in the boot order.
This DVD is a double-sided disc. A DVD device always reads the side of the disc that is facing down. This DVD is labeled like a normal DVD – the label you see as you place the disk into the tray applies to the data on the opposite side. For instance, if you are installing the 32-bit version, the 32-bit label should be facing up in the tray.
Comments
Ubuntu / Kubuntu DVD Sept 2009

I seem to have encountered a problem with this. I tried out the live distribution, then thought i would try installing to a USB, so from the desktop (Kubuntu) I clicked on the install icon, The first screen had a link to release notes so i clicked on that (opening a new window) and read them, then closed that window down. I then realised that the USB flash drive i had plugged in was the wrong one (One that i had already installed Slax on) i therefore selected to abort the installation in the first window. I am using a Dell XPS M1530 laptop and decided that i would try the install later, now, after the aborted install rather than booting Vista after the BIOS start screen i get a flash that says Loading...which is all i have time to read, though there is more and am then dumped into Dell Hardware diagnostics. These run successfully (taking several hours), but even after completing them there appears to be no way back into Vista, just to a repeat of the diagnostics.
Using the Kubuntu live disk i can see the directories and files on the hard drive, though i am not expert enough to check the mbr so i assume that The Kubuntu process has either marked the harddrive partition holding Vista as non bootable, or has overwritten the mbr. Interestingly the Slax USB is also now not bootable, though the BIOS settings still show the same boot order as i had before, and allows me to boot from DVD or from a Knoppix USB flash installation. My next step will probably be to try and rewrite the mbr using a rescue disk. But i thought that it would be prudent to ask first if there were any other reports of this problem, or a recognised solution. It seems a little early in the installation process for the process to be overwriting the mbr? most cd/dvd install processes seem to make that the last step! Any advice, or information would be welcome, i should be able to access mail peter.lawrence.jones@lineone.net via my wifes PC for any reply. It all makes me glad i've got backups, but could still do without the hassle.
comments powered by

Disqus