Issue #108 / Nov 2009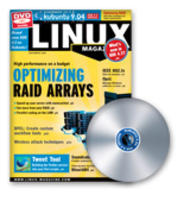 What's new with KDE 4.3?
At the beginning of August, the KDE project released the third major update of KDE 4 – reason enough to put KDE 4.3 through its paces and study the new features.
Network access control on wired networks with IEEE 802.1X
Did you think the IEEE 802.1X standard is only for wireless? We show you how to set up a network access control system on a wired network with IEEE 802.1X and a FreeRADIUS server.
Klaus Knopper is the creator of Knoppix and co-founder of the LinuxTag expo. He currently works as a teacher, programmer, and consultant. If you have a configuration problem, or if you just want to learn more about how Linux works, send your questions to: klaus@linux-magazine.com
The sys admin's daily grind: RoundCube
Charly has a web mailer on his server just for family and friends. Last weekend he ditched the overly simplistic SquirrelMail for a Web 2.0 program.
Kismet, Aircrack-ng, and Karmetasploit
How to find, map, crack, and impersonate wireless networks.
SYSADMIN: Opsi
Deployment Windows clients from a Linux server with Opsi
Opsi extends Linux's convenient software distribution methods to Windows PCs on heterogeneous networks.
Cleaning up log and cache files with BleachBit
Many Linux services and applications create a continuous log of their activities. BleachBit cleans up the resulting log files conveniently and efficiently.
PROGRAMMING: BPEL
Workflow management with BPEL
BPEL helps you build tools for managing workflows.
Visit Our Shop
Direct Download
Tag Cloud