Issue #98 / Jan 2009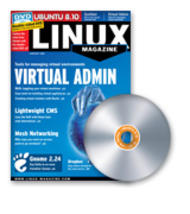 DVD: Ubuntu 8.10
Lightweight content management systems
Would you like a content management system that's actually easy to manage? We take a closer look at some user-friendly CMS solutions, including Pluck, SkyBlueCanvas, and NanoCMS.
What's new in Gnome 2.24?
The traditional Fall release of the Gnome desktop ushers in a number of useful new features.
Automated installation with the Cobbler provisioning tool
Cobbler helps you install new systems in a hurry. We'll show you how to use this nifty shoemaker to deploy Xen and VMware virtual machines.
Exploring IEEE 802.11s mesh networking
Mesh networking comes to with the IEEE802.11s draft standard. We'll show you how to mix a mesh.
Klaus Knopper is the creator of Knoppix and co-founder of the LinuxTag expo. He currently works as a teacher, programmer, and consultant. If you have a configuration problem, or if you just want to learn more about how Linux works, send your questions to: klaus@linux-magazine.com
The sys admin's daily grind: Siege
The siege of Troy is said to have taken 10 years, ending only after Odysseus introduced a wooden horse into the mix. Charly is planning a siege, too, and the target is his own web server. Of course, he doesn't have 10 years to complete the task, and Odysseus isn't on his team.
Why complexity is bad and open source is good
When a test kernel starts wrecking network cards, the community gets busy.
SYSADMIN: X2Go
Server-based computing with the free X2Go terminal server
The open source X2Go project is rapidly approaching version 3, which adds features such as new clients and seamless windows.
Visit Our Shop
Direct Download
Tag Cloud